This was my second Bruce show seeing him and the E Street Band, my first being when I was 13 and my very first concert. I thought there was no way this show was going to outdo the tour in 2002 behind The Rising, especially without Clarence and Danny Federici. Truth is, it did. And I missed the Big Man more than ever- but like the Boss says, "If you're here, and we're here, then they're here." 
We got incredibly lucky when our numbers got drawn to be one of the first 400 into the pit, so we got to go in behind only about 70 people and wait in the hall while the band sound checked. It was so cool when they rehearsed 41 Shots and everyone waiting to get into the pit went wild after… who knows if they even knew we were there listening, but they sure did after that song! Anyways we ended up about 3-4 people from the stage, right near where the stage juts out into the audience!
Here's the set list:
1. We Take Care of Our Own
2. Wrecking Ball
3. Prove It All Night
4. Death To My Hometown
5. City of Ruins
6. Does This Bus Stop on 82nd Street
7. Talk to Me
8. Jack of All Trades
9. Atlantic City
10. Easy Money
11. Waitin' On A Sunny Day
12. The Promised Land
13. Apollo Medley (The Way You Do the Things You Do/634-5789)
14. American Skin (41 Shots)
15. Radio Nowhere
16. The Rising
17. We Are Alive
18. Thunder Road
19. Rocky Ground (with Michelle Moore)
20. Land of Hope and Dreams
21. Born To Run
22. Dancing in the Dark
23. Glory Days
24. Tenth Avenue Freeze Out (with Clarence's son Jared on tambourine)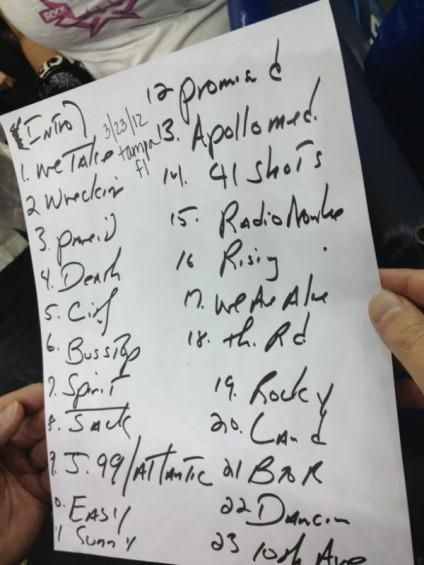 I absolutely loved hearing the new songs live… the album didn't do them justice! Wrecking Ball and Death to My Hometown were tons of fun to dance to! and I was really excited to hear one of my all time favorites, Atlantic City.
My dad used to play that song for me and my brother all the time in the car when we were little. Like a lot of this particular show/tour, the end of the song had a bit of a gospel feel to it, which Ireally appreciate because Bruce does it so well. Like at the beginning of the show, he said this bit so poetically in his preacher-man voice:

Tonight everybody's going home with their heads hurtin', their feet hurtin', their voice hurtin' and their sexual organs stimulated! Says so, right on the ticket. That's my guarantee! 
I always appreciate artists that let you know right up front how its going to be. Like, Hey, I'm up here giving it my all and sweating my ass off, so you all out there better dance and sing and sweat your asses off too. That's what Bruce is best at.
 
Here's a bit from Easy Money where I was real close. This song was great for everyone to sing along with and it really get everyone going.
http://youtu.be/DupUN105J0Y
Out of nowhere during Apollo Medley, Bruce decides to crowd surf. Keep in mind this man is 62 years old. Pardon my french but HOLY SHIT Batman, that's beyond impressive. I damn well hope I am like that at 62. Bruce doesn't even look 50 in my opinion. Anyways, look for this at the upcoming shows on the rest of the tour because I've heard he's done it at every show so far. Here's my photo sequence: (I really thought I was going to end up holding him up!)


We all got a real treat when they launched into American Skin (41 Shots). Like I said before, the few hundred of us up front knew they would play it because we heard them sound checking with it earlier. It was meaningful to everyone there because of the recent Trayvon Martin shooting in nearby Orlando. Anyone who has heard it knows its an emotional and powerful song, but when you hear it live, and it has relevance to an event nearby you, man. That was enough to give me the goosebumps during the whole song. Here's a bit I managed to get on my phone, mostly because I knew I'd want to remember it later on.
 http://youtu.be/UPsS86PTmRQ
The most fun of the night was during last 4 songs (encore) they turned all the house lights on! A sweet moment was during Dancing in the Dark Bruce pulled up a young girl and twisted her around before picking her up and gently setting her back down in the audience. Per usual during Born to Run Bruce came over to our part of the pit and let us all play the guitar with our fingers. We got to hear Glory Days live for the first time in years, thanks to a young girl near us who held up a sign saying "It's my birthday, please play Glory Days!" :)
But the most moving moment of the night came end the very end during 10th Avenue Freeze Out. First they brought out Clarence Clemons' son on the tambourine to play next to Jake. Directly following the line "And the Big Man joined the band" every musician stopped playing and the crowd just went wild for a solid two minutes, urged on by Bruce. People around me actually started chanting "Clarence, Clarence!" in his memory. It was the perfect way to pay tribute to the most soulful musician of our time. It provided just the right amount of remembrance, hope, and celebration to the night. We love ya and miss ya, Big Man.
Probably the most spiritually uplifting, meaningful, and life changing show I have ever been to. (& I've been to a lot for only being 21! maybe 30-40?)

What else can you expect… He is The Boss for a reason.